For many people Oia is one of the most picturesque villages in the world. For others, a place rich in history and images, a gorgeous setting.
Oia with 1,500 permanent residents is the second larger settlement in Santorini after the capital town of Fira .
Oia is built on the cliff; when boats approach Santorini, visitors are amazed by the suspended houses on the rocks that look like snow on the top from afar. Along the cliff of the village, the buildings and constructions are delved into the soft and porous volcanic soil; the contrast is stunning: white washed little houses and caves sculpted in the rocks, with blue windows and doors, with small pots at the windows and porches with purplish and reddish Bougainvillea hanging from the walls and rocks. The scenery is airy, light, Greek…
Oia is noted for the picturesque architecture, the romantic atmosphere, the harmonious blend of mansions and resorts with the incaved houses, the medieval Venetian architecture with the traditional architecture of the Cyclades Islands, the narrow cobblestone paths and streets, the numerous art shops, the stunning views to the caldera and the Aegean, the blinding white of the houses and churches.
Sunset in Oia
Oia is famous for its sunset; hundreds and hundreds of people suggest that the one in Oia is the most gorgeous sunset in the world. It is special indeed, but it's not only about the view. Yes, the view is superb, the colors of the sun resting into the sea are warm and tender, but it's the entire aura of the village, the topography, the morphology of the soil, the architecture, the people from every corner of this world that make it so unique and so magnificent. An immersion of sorts; that's Oia.
Capturing the Essence of Oia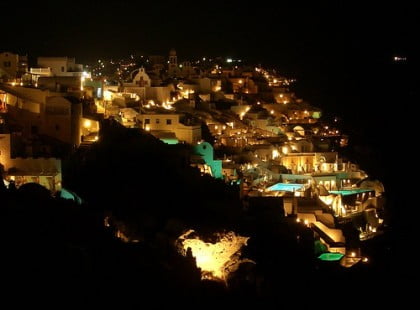 There is a funny game played in Oia, mostly by tourists. It's called "capture the shot". Oia is hard to describe, hard to capture; words are little to describe to someone what you see and what you feel. Usually people say a few words, how much they like it, other times they just sigh. Or simply, they show you a picture they shot standing on the rocks of Oia. What can better describe Oia than a picture capturing a moment of its beauty?
Oia is one of these places where light changes the setting constantly; the beds of rocks create a unique game of colors onsite and you can see people sitting at cafés or on the rocks and nearby beaches, taking pictures of the same rock every now and then; a place that seems to be the same, yet that changes constantly, inviting you to follow its serene and wild, at the same time, aura and look.