Sailing in Santorini is a memorable experience; the island of the volcano and the suspended whitewashed houses, is more than ideal for sailing around due to the amazing landscape and the pristine beaches.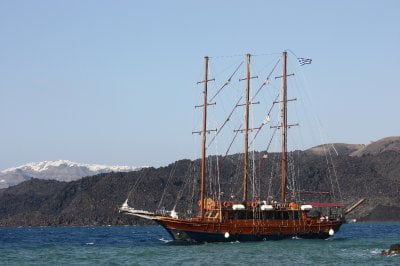 There is probably nothing more rejuvenating and exhilarating than taking holidays that permit you to participate in activities that keep you both active and entertained. Santorini offers the chance to both amateurs and savvy sailors to explore the beauties of the island in a unique way.
Santorini Sailing Cruises
Sailing into the volcanic caldera of Santorini is part of the superb experience visitors can have in this Greek Island; there are numerous sailing cruises organized for tourists, taking them to the volcano and the infamous beaches of the island.
Catamaran boats or sailing yachts are used, while those who are into motorboats can definitely have their own share in the fun, as there are cruises with motorboats as well.
A typical sailing cruise around Santorini island lasts a whole day, starting from early dawn when colors are breathtaking; it includes a Mediterranean feast on board, or in one of the most isolated and private beaches of Santorini and ends during the sunset time, as the sinking sun drenches the slopes and villages on the cliffs.
Sailing to Santorini
For those who are not on the island but wish to visit Santorini by boat, there are charter yachts that can be rented from Kalamaki in Athens, Syros and Kos, the three biggest and most organized marinas for sailing yachts in the Aegean.
Sailing from Kalamaki to Santorini could be a daunting task unless you are really experienced, since the Aegean is a hard sea to tame; most charter companies will suggest you Syros as a starting point.
Santorini doesn't feature an organized marina, but there are places to anchor and renew water and fuel supplies. In any case, approaching Santorini by sailing boat is one of the most memorable and breathtaking experiences one can ever live.
Jennifer's blog post about Sailing in Santorini
This experience is graphically described at the blog of a visitor to Santorini, Jennifer, who had the chance to spend vacation time on the island, staying at one of the best hotels on Santorini and cruising along its shores while the "Mediterranean feast, rivals my top spot for best meal ever ".
The article written by Jennifer about sailing in Santorini is a quite tempting and realistic article, presenting the beauties of Santorini, along with several amazing pictures taken by the blogger herself.