Santorini White; astonishing and impressive. A classic theme for pictures on the island.
The most common label that sticks with Santorini is "a classic blue and white". Even a superficial glimpse at a photo or a video clip from the island will justify Santorini's unique label. Whether you have never been there or not,  you will recognize Santorini because of its picturesque serene white villages built on the top of high cliffs, cozily embedded between the blue skies and vivid blue sea and spotted by the blue dots of the domed churches.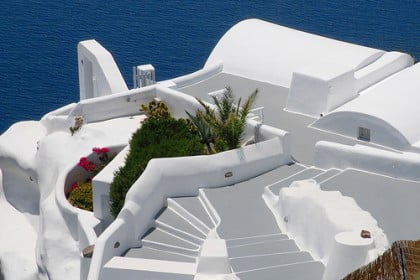 santorini white by marcelgermain
There is no white like Santorini's white. However the white is the predominant color of all the Cyclades islands, it has a particular nuance in the volcanic island of Santorini. The old inhabitants of the islands chose white for a reason: not only because it has been one of two sacred Greek colors, but because it was also the best contrast to the rocky, green deprived land. In Santorini, somehow, this "cycladic white" got a particular nobless.
Santorini's whites are accentuated by the simple yet amazing architecture. The seemingly endless stairs weave through tiny passages and connect seductively cave-like houses of whitewashed stones, and together melt into the eternal sea of white waves – crisp and shiny in the mornings in the mornings and tamed and laced by departing sun just before the dusk. In the night of the full moon, Santorini white is as mythical and mystical as it gets.